My Mom lives in Texas, but had three days off in a row and decided to fly in to Philly to visit me for a day! I was super excited. She was also going to be spending a day with my Grandma, but I work every day so I couldn't make the trip (she lives 2 hours away). Anyway, I wanted to send some goodies along. My Grandma likes simple vanilla cupcakes and is diabetic, so I made her minis with the centers of them cut out for strawberries. For my Mom (and a few for myself), I made shortcake ones with a strawberry syrup filling and buttercream!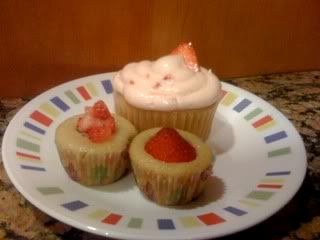 :( I tried posting the step by step photos, but for some reason they're insanely huge. I know that nobody probably has a problem with screen-fulls of cupcake goodness, but I also don't want to be rude so I took them off.
If you want the recipe and the actual directions for assembly, I posted everything on my blog!:) Anyone have any good diabetic dessert ideas?