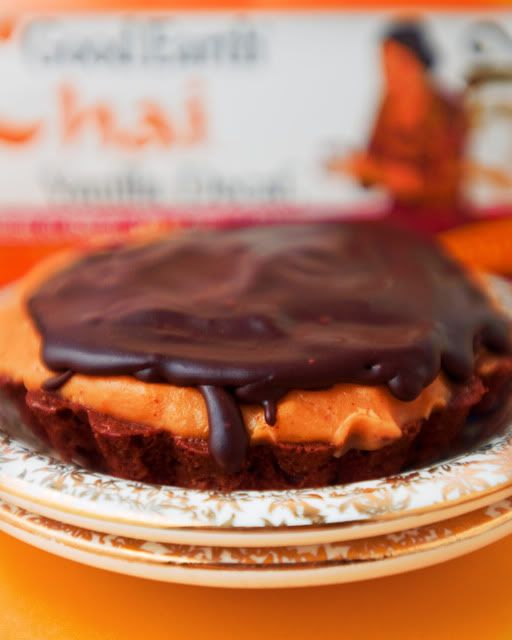 I didn't intend for this to be an ice cream cake, but my oven is being inconsistent, and I didn't want my pie to suck, so plan B.
I'm happy with it! I took a bite and I think it will actually be better than a baked pie. It is surprisingly light. I have the big one in my freezer for Thanksgiving!
Gluten Free Brownie Pumpkin Pie with Chai Ganache
Make 1/2 batch gluten free brownies in a springform pan. Add 1/2 cup nuts if desired.
Recipe for brownies here:
http://melomeals.blogspot.com/2010/11/n ... ownie.html
Let the brownies cool completely.
Filling:
1 qt Soy Delicious Vanilla Ice Cream, softened
15 oz can pumpkin
2/3 c sugar
1 t cinnamon
1/8 t nutmeg
8 oz chocolate
1 chia tea bag steeped in 1/2 c boiling water
1.Mix ice cream, pumpkin, sugar and spices together. Spread on top of cooled brownies ( in a springform pan )
2. Melt chocolate in microwave for 30 seconds. Add hot tea and sitr until the chocolate is melted. Drizzle over the pumpkin filling.
3. Chill at least 4 hours or freeze until you want to serve.
To serve, thaw for 30 minutes or so.
Enjoy!!