Mint chocolate chip Oreo ice cream. Based off the Vegan Scoop recipe but with a can of coconut milk and some extra water and soy milk.
A layered chocolate dessert from
Simple Modern Patisserie
, a macrobiotic gourmet place just outside of Tokyo. I enjoyed this. Also pictured are a free madeleine and almond biscotti given to me when I told the pastry chef (?) it was my birthday.
A pastry shell filled with sweet almonds. It looked pretty but was super dry, as is the case with most of the macrobiotic vegan sweets I tried in Tokyo. Also from Simple Modern Patisserie, not pictured, was a slice of strawberry shortcake, which was basically oily cream, some slices of strawberry, and a flavor that weirdly reminded me of Dr. Pepper.
Sweet cranberry doughnut from
Eat More Greens
. SO GOOD!!!! The cranberry wasn't tart at all and the dough clearly involved yeast and possibly was fried, so no dry cake doughnuts here. I took several trips back to EMG to check back for more of these bad boys. They're about a 10-minute walk from Roppongi Hills. Not entirely vegan, but very vegan friendly and highly recommended.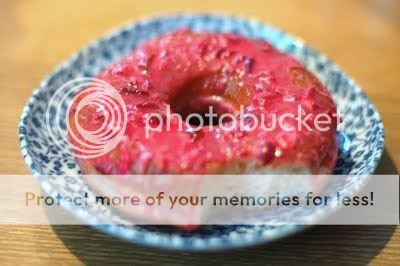 Strawberry cheesecake from
Loving Hut
. Yum! This place is tiny but they're worth visiting. The staff spoke English and everything to my knowledge was vegan. The prices are reasonable as well.
An array of more sweets from Eat More Greens. Can you tell I was really excited to find this place? The giant pink thing is basically the same recipe as the previously pictured cranberry doughnut but in the form of a cinnamon roll, obviously minus the cinnamon. Also pictured is a standard, okay slice of chocolate cake with beany soy cream and a—surprise!—incredibly dry oatmeal chocolate chip cookie. I tried some other sweets from there, like a black sesame biscotti-type thing (mmm!) and a rather good slice of apple pie. This is probably my favorite vegetarian restaurant in Tokyo.
Messy southwestern-style meaty sandwich from
Pure Cafe
. Their savory dishes are hit or miss for me, but I liked this and also some breaded, fried tempeh with homemade ketchup. I also got a cinnamon almond scone which was dry and on another occasion a lemon poppyseed muffin which had a delicious glaze but, yes, a dry texture. I don't get the dryness of macrobiotic vegan food in Japan, but spending just a couple weeks there made me crave
anything
sweet, so I didn't even care that much then.