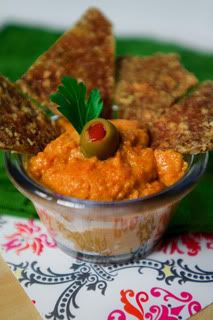 I created this recipe today inspired by the We Can't Say It's Cheese smoked cheese spread.
It still needs some tweaking, but it's pretty good. Adding a roasted red pepper and a teaspoon of miso or umeboshi vinegar would probably make it really good, but I don't have either, so I used what had on hand.
Smoky Pimento Spread
1 c old fashioned oatmeal
1 T paprika
1 t salt ( I used chunky sea salt, you may need less if you are using finely ground salt, so start with ½ t )
1 T onion powder
1/2 c nooch
1.5 t Dijon mustard
1.5 c water
1 T toasted sesame oil
½ t liquid smoke
2 T green olives
2 T olive brine
2 T olive oil
Method:
Over medium heat, place oats, paprika, salt, onion powder, mustard, water and toasted sesame oil in a saucepan. Cook for 20 minutes, covered stirring several times. Place the olives in a food processor and pulse to break them up. Add the oatmeal mixture and process for 3 minutes or until very smooth. During the last 30 seconds, add the brine and olive oil pulse to incorporate. Allow mixture to cool.
also, check out one of my new projects. Share a Plot! ( connecting people with land to people who need land )
http://shareaplot.blogspot.com/