I looked to see if there is a thread to post Thanksgiving Food Porn, but I didn't see one. If I missed it, I apologize sincerely. Anyway, here is my "classic" Thanksgiving. I had to work all day (6am-1030pm), so I needed the most simple menu possible. I cooked after work on the 23rd, and had my boyfriend finish up the rest of it/heat everything up on Thanksgiving so we could eat on my break. We were successful, and here is the most classic (but wonderful!) Thanksgiving ever: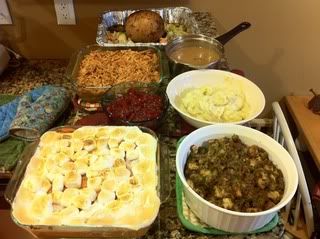 Oh, and in the interest of time I made a pie that was half apple pie, half pumpkin pie. My crust didn't do too well (it was yummy, but very flakey and kept breaking off):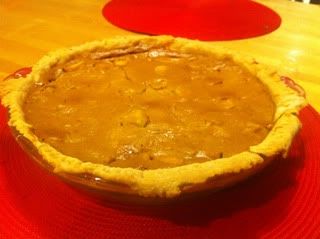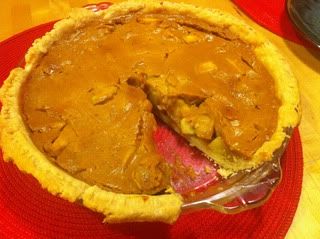 Our simple menu:
- Tofurkey (.. I wrote "d u h" but the PPK decided to write "I need to learn to use words to express myself".. really?), with a baste that my boyfriend made up, and tons of veggies
- Green Bean Casserole (his fav!)
- Sweet Potato Casserole with Dandies (my fav!)
- Cornbread and "Sausage" Stuffing (maybe not a "classic," but I saw it on the front page of WholeFoods.com and was intrigued.. it was amazing!)
- Mashed Potatoes
- Mushroom Gravy
- Cranberry Sauce
- Apple Pumpkin Pie
What'd ya'll have???!!