Hi, everyone. This is one of the shelter dogs named Clooney. He is located in Massachusetts, in the Boston area, and he needs to find a home ASAP. He has been waiting for well over a year now.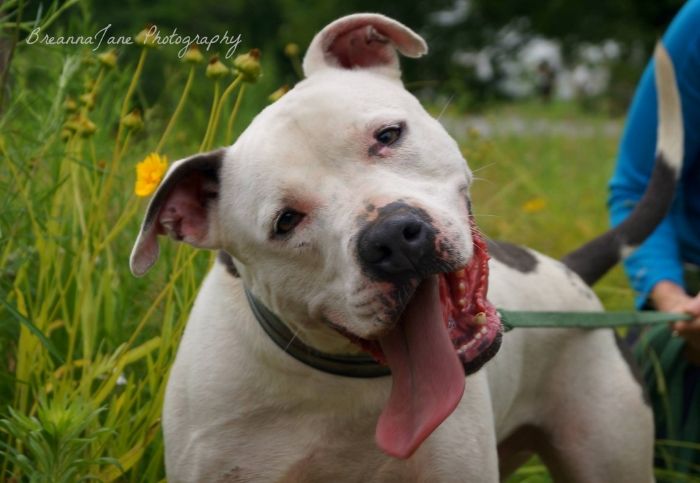 He was found as a stray over a year ago. He was found with some and scratches on him. Unfortunately, when a stray animal with no known vaccine history comes in with a wound of unknown origin, they have to be put on a 6 month quarantine to make sure they don't have rabies. (The person who first spotted him thought he may have been hit by a car as he was in the middle of the road, but no one saw it happen.) So Clooney was quarantined in the kennel for 6 months. He was about 9 months old when found, not neutered, had ZERO training. He is also super high energy. After 6 months in the kennel he was neutered, vaccinated, and up for adoption, but his breed (bully breed mix), plus his energy level and lack of training meant that he got no interest. He has a fb page which has been shared thousands of times, but still no home! He was bouncing off the walls in the kennel and we were afraid his behaviour would deteriorate, so we sent him to a friend who has a training/boarding facility. There he gets 2 play sessions plus 2 training sessions a day, and his behaviour has been improving. Unfortunately, the boarding center has lost its lease, and all dogs must be out by the 15th. This means Clooney must come back to the kennel, which is very much not an ideal situation for him. So we are trying to find him a home asap. We have been unable to get him into a foster home because he doesn't really like other animals.
Here are his needs:
-a home with no other pets
-a home with no small children (he still gets jumpy when excited, especially with new people)
-a home committed to giving him the exercise and continued training that he needs.
-if someone wants to let him play in a fenced yard, he needs a HIGH fence (6+ feet). He is an athlete!
Clooney knows sit, down, paw, come. He is housebroken and whines when he needs to go out. He barks a lot when he is behind a fence and people approach, but he is not aggressive (just overly excited!). He has been working on walking on a loose leash, but he still pulls a bit when excited. He loves toys and playing. He LOVES to roll in the grass.
Clooney is available for adoption through the
Milton Animal League
. His facebook page is
Clooney's Quest for a Home
. PLEASE SHARE! We are desperate!